It Starts with the User Experience.
Ultra-Tech Printing (UTP) is a key vendor for many well known brands. Their work is exceptional but there was little photography or written experience to prove it. We needed to hire a photography and create content. Since we were hiring a team and working closely with the client, we needed the proper documentation including questionnaires, sitemaps, wireframes, and mockups to guide the process.
Because UTP uses ultraviolet presses, which are fast and dependable, I wanted to highlight this key differentiator. The logo and letterhead was designed in tandem with the site. The site features the exceptional photographic work of Rudy Malmquist. The site went through wireframing, design, and development. We captured the quality of their work and the people and process behind it.
My Role: Project Lead, UX, Interface Design, Illustrator, Design Director
Clients: Genevieve Ingram, Chuck Piette, Tom Ford
Every great brand experience is a thoughtfully considered human experience.
Background
Ultra-Tech Printing are print experts. They asked me to help them with their 20 year anniversary rebrand. This was the year they were going to finally launch with a new website. The trouble was, where do they start and how does it get done efficiently?
Here's a snapshot of the previous website, dated 2011.
A great home page will be designed to impress, build trust and establish credibility. It should say — and show — what you do of value for your targeted audience. Finally it should help the visitor take the next step whether it's seek more information, buy a product, or simply pick up the phone to initiate a conversation.
We had some work to do.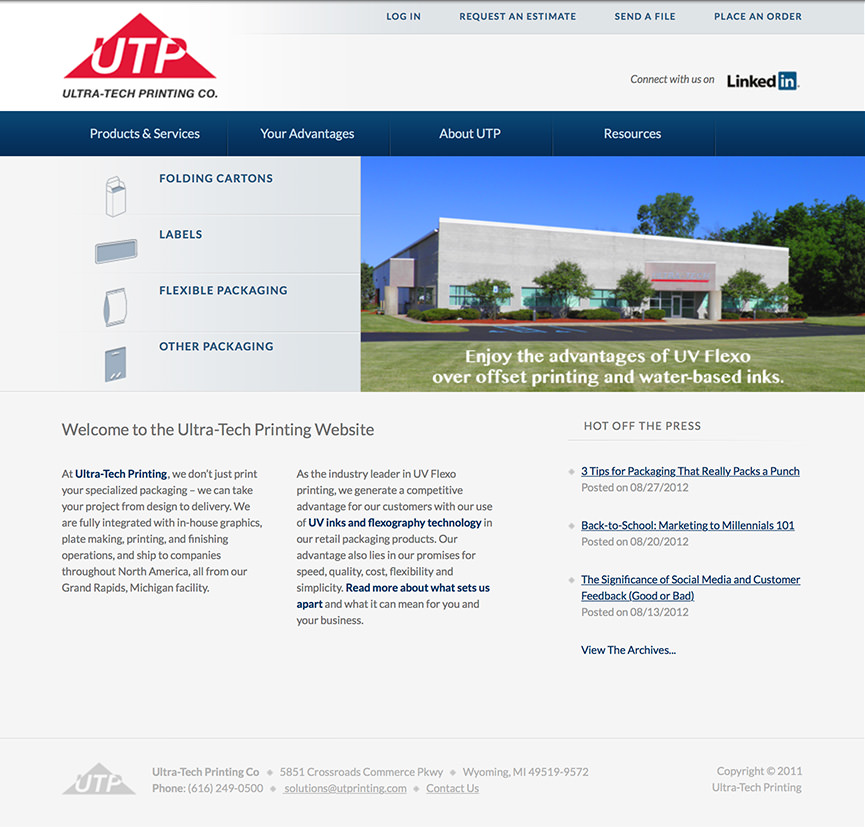 The Research
Ultra-Tech Printing had a great portfolio of product. Every Target, Meijer, and Walgreens has samples of their packaging on their shelves.
They were one of the first in Grand Rapids to champion Ultra-Violet inks for printing. This process is fast-drying, cost-efficient, and high-quality. They can turn a project faster than most printing vendors which is of great value to product managers.
Their Operations Manager, Chuck Piette, was a unicorn in the industry. If there was a challenge, he was the solution. Chuck was resourceful, practical, and able to get the job printed.
We also needed a writer and developer. To build a team, I called on Molly Benningfield and Brad Hammond respectively.



Defining Scope
So all parties were aware of this project's scope, I created wireframes to identify page content and page count. With this document I knew how to price the project accordingly.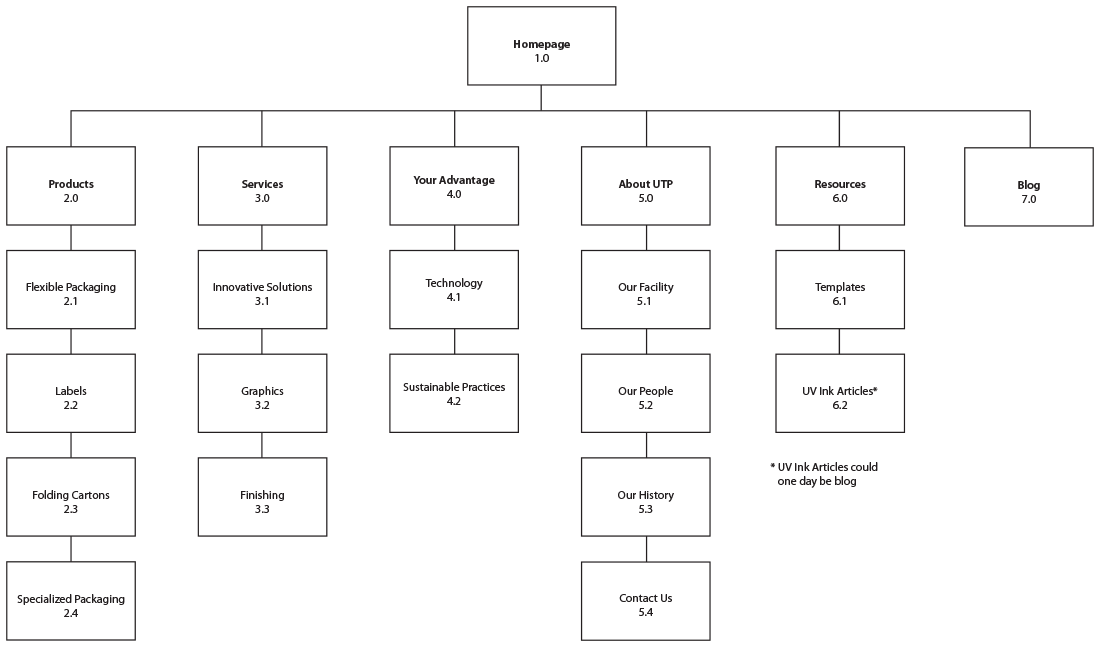 Additional Challenge
The first step in building a website is to gather the facts and define the target. After meeting specifically for content, I created a series of wireframes to showcase products, outline services, and highlight opportunities to build trust. To shape the value proposition and differentiators Ultra-Tech Printing needed an Advantages page.
These documents were helpful for the client's understanding the process of going from the old site to the new site and content. They helped us identify the gaps and needs. It helped Brad start the development process long before we had content and interface design.
(Not all pages from the wireframes document are shown)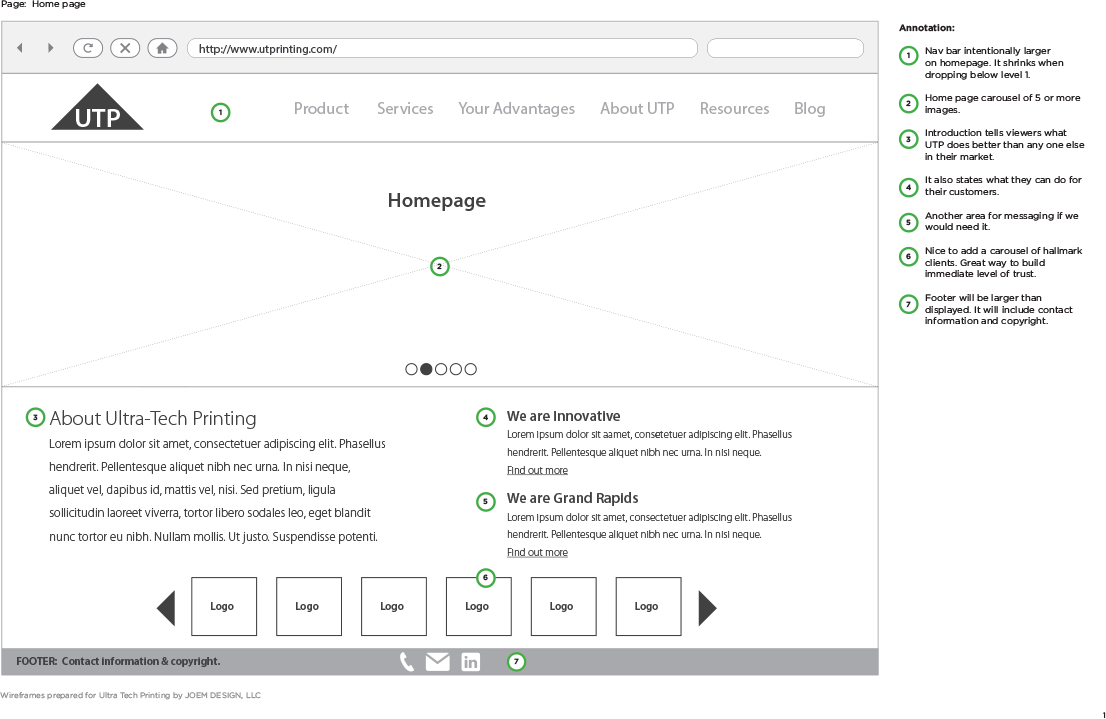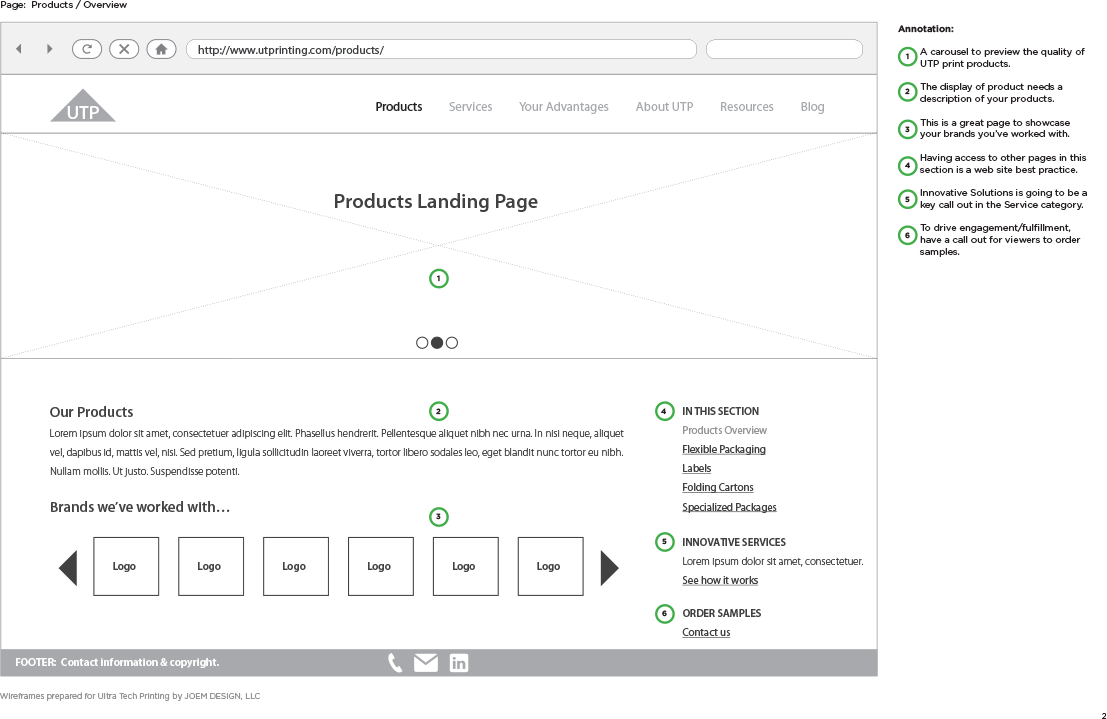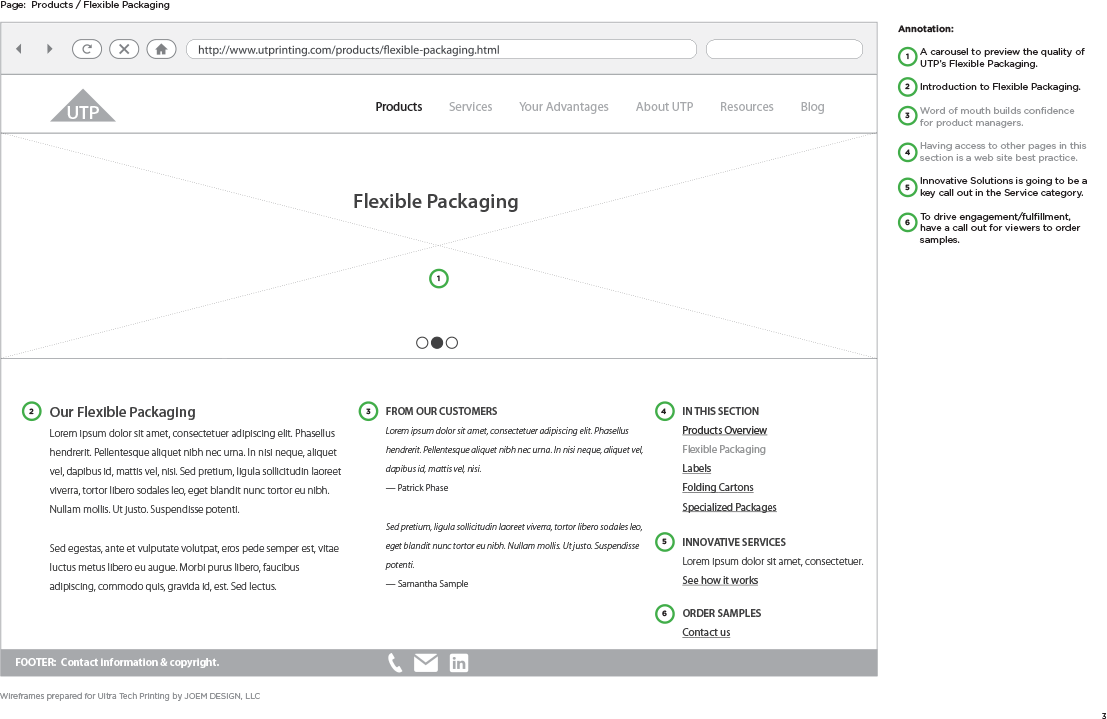 Results
In the end the project finished on time and in budget. Perhaps just as important the client understood next steps with comfort and awareness in real time. The process can be daunting. The expectations can vary. Instead, the client, the photographer, writer and developer all worked in step as a team.
Good documentation goes along way in keeping teams together, working as a unit, knowing what's expected next, and completing tasks on time and in budget.