As Independents, we in the creative industry hunt and gather outside of the cultivated system of agency life. It's a bit romantic, but at times it's difficult to empower freewill to find clients, command a respectable salary, and work at our best. Often the question I ask is how are other creatives processing this task? Or how long is this supposed to take?
Working alone can sometimes be tricky that way. So we pop our heads up.
At common ground networking events, we come to socialize, but loud, meet and greets are hardly the time or place to vent and talk process.
That's why on Friday, April 21, eight small business owners across several disciplines gathered around a conference table at Left Right Boom in Grand Rapids, MI. It's what I am calling The Independents Menu — a lunch and learn for independent creatives and business owners.
Extraordinary talent, handpicked for their conversational skills, were invited to share three topics for this first meeting:
what is going well at this moment;
what do they want from a monthly meet up;
and what lights them up about what they do.
The responses were great. From our round table introductions we identified the following topics for upcoming topics:
First client meetings and identifying scope of work.
How do we keep pricing consistent?
How to be more efficient at networking?
Best practices in developing leads.
How to grow our businesses.
In the future, I'll be posting a synopsis of each meeting.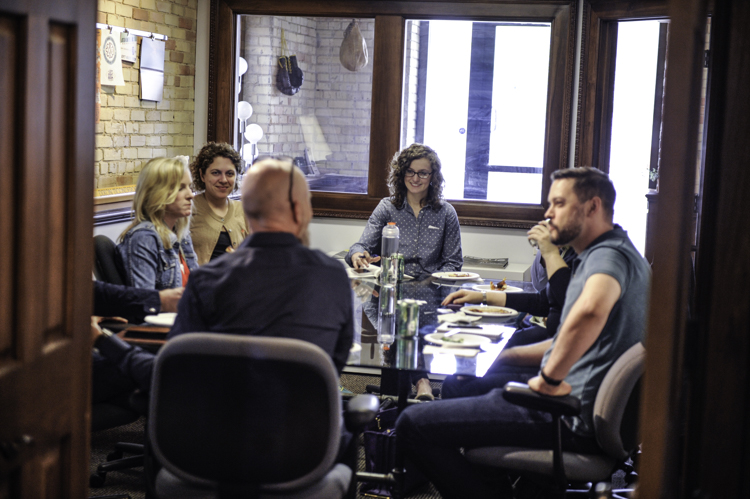 Photo by Steph Harding
In the meantime, if you want to start your own group, then include the following tips:
Get ahead of the first meeting and find passionate, outspoken talent. The goal here is to get honest feedback not back slaps.
Figure out a meal plan. Pizza and salad cost ~$40, a write off expense. But don't discount a BYOL; it's still effective.
Write up your notes and share with the group.
Don't be afraid to share and ask for feedback during and after the meeting.
Hold each other accountable for their public commitments.
Share your thoughts and promote your group members.
Speaking of which, here are the names of our attendees:
Michael Nÿkamp
Illustration, Design MKN Design
Deidre Remtema
Interior Design, Deidre Interiors
Andrea Napierkowski
Web Design, Curly Host
Lauren Figueroa
Interior Design, Georgia Pear Interiors
Sung Yi*
Visual Designer, Visual Hero Design Company
* Sung is employed but a brilliant friend
Pamela Patton
Copy Writer, Paragraph Writing Services
Rian Morgan
Photographer, Designer, Left Right Boom
and myself, Joe Morris
Brand Strategist, Design Director Joem Design, Left Right Boom